Before my departure, I had a turbo visit with my spiritual directors, R and K. They were committed to family in McCall and my schedule was nuts, so we supercharged a 40 minute walk on the edge of Ponderosa Park to understand this trip.
I told them how easily everything arranged itself. How when I read the Valley of Flowers excursion email, I knew I was going- that feeling of heart in your throat. 18 months of preparation- hiking, reading, acquiring gear, imagining. Arranging six places/organizations for Renee to be gone for five weeks. That alone was almost a deterrent.
K asked the iceberg question, "Why are you going?" I began the ramble to get under the surface. "Because it's hiking, and to holy places which apparently is a thing for me, and it's in the yoga lineage. Because I need a break, a reset, and with five or six "jobs" I suppose it has to be a little extreme. All the meals and the schedule are done, for a MONTH – I just show up. I want to surrender to the current and receive whatever gifts are present."
We stopped walking while R and K turned to me and burst into grins. "That's why you're going, Renee. Someone else is taking care of things."
Clearly the current was already present~ the conversation just brought more clarity and respect. I figured out how to get train tickets on India Rail, gear and money arrived from unexpected places, and an airlines agent switched my connection to Munich, my old home airport. The story of surrender and allowing could end here, and I want to tell you about my first two days in Delhi.
I've been asking total strangers for help, advice, and information. My hotelier sent me to this sorta boring shopping complex. The first thing I saw was an electronics store, and I needed a charging cube. Next I found an Aruvedic shop and asked where to get a massage. They sent me to another totally boring complex across the street. Elevator to the 8th floor, and then into a posh spa. Hm….not the Delhi experience I was imagining. The owner and a therapist were standing at the entry, like they were waiting for me. She gave me a robust ninety-minute Tibetan treatment, heaven. The day remained quiet, relaxing, and mostly uneventful. Surrender meant trusting the current, and somehow boring led to beauty.
In the morning I read a passage in Swami Rama's autobiography about growing up in the Himalayans. He says we must have faith and also determination. I like the tension here- faith requires surrender, and determination requires agency, strategy, and willpower. For this trip, I needed a lot of determination to address all the reasons to not do it, none of which were that interesting. I needed faith to know or believe that I could actually get here.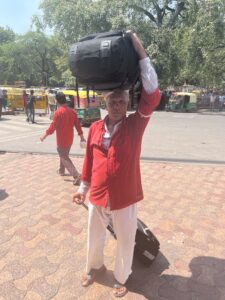 Which takes us to the 11:40 am train departure to go north. I was tracking travel time on google maps from my hotel to the train station, and decided to double it when scheduling the Uber. When my driver started fidgeting on the tail-light-red freeway and the estimated arrival time lengthened, I closed my eyes and thought, faith and surrender. If I get a later train or depart tomorrow, another adventure.
We arrived at 11:25. The porter led me away from the main entry through an easier door, the train was late, some young folks pointed me to my coach, and I'm sitting in my berth writing to you. This surrender thing feels relaxed, uncertain, patient, humorous, and welcoming. Anything can happen, and I can receive it.