June 25 and 26, 2022
Community Hub Auxiliary
409 S. Third Street, McCall, ID
Join me for some invigorating classes on the cusp of glorious summer weather in the mountains. It could be cool or warm, rainy or sunny. We'll show up for it all, just exactly as we are.
Reconnect with yourself, summertime, friends, the mountains, and lake.
Clean out your body, mind, and spirit with some vibrant asana, beautiful mountain hiking, and soulful dancing.
Recalibrate and refresh to meet the pace of Idaho summertime.
Saturday, June 25
Ignite Asana Flow
11:00 am – 12:30 pm
Featuring my signature mix of warm-up stretches on the mat, vibrant standing work, and restorative cool-down/shavasana with space for personal-choice movement accompanied by a heartfelt playlist.
Lunch on your own.
Meditative Woods Tromp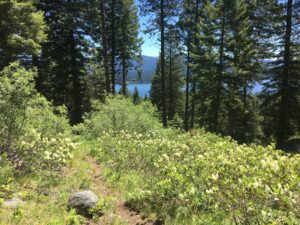 2:30 – 4:30 pm
Summer is short in McCall, so we aim to be outside. Your weekend will feature a meditative hike in the McCall woods to a lookout point. The hike is moderate with mixed alpine terrain, a cool creek drainage, and a final ascent to a rocky bench.
Yoga Lounge
5:30 – 7:00 pm
Total chill-out down on the mat,  Featuring long, easy stretches and a lengthy shavasana for a blissed-out departure.
Sunday, June 26
Soulful Asana Flow
11:00 am – 12:30 pm
Raising the bar on the signature mix to include more mantras and poetry, closing our series with a bow toward your soul.
Registration
$15 per session drop-in
To register, send a $15 deposit to Venmo here and write Ignite and your email address in the What's it for? box. If you prefer checks or cash, reply here or send an email that you're coming.  See you on the mat!