I've been feeling a range of sad, hopeful, and energized to dive into service. This morning I was feeling sad about all the empty concert halls, stadiums and fields, museums, restaurants, schools…those things we do really well as humans, paused.
Since I've been weaving through the phases in the Kübler-Ross grief model, I thought we'd have a look, figuring you might be doing this too.
I'm definitely in denial about how long this could last, the changes we'll continue to see, outcomes I dread, and sacrifices yet to come. Even wearing a face mask–honestly, am avoiding the grocery because I'm not ready for this one.
This is the invitation—see where you are. Have a look and consider where you might be today. Remember, this is simply a tool or perspective that may work for you.
I reached out to Sharon the expert for some wisdom to pass along. This helps me feel comforted, confident, and happy. She prefers the Rando 6R model.
This map of the Rando model comes from the very thorough What's Your Grief site along with a helpful distinction: "grief is more an involuntary reaction to the loss, whereas mourning in an ongoing, active process of moving toward accommodation."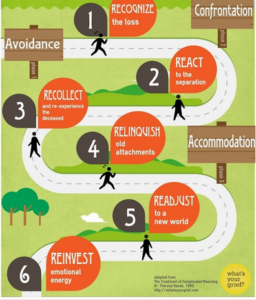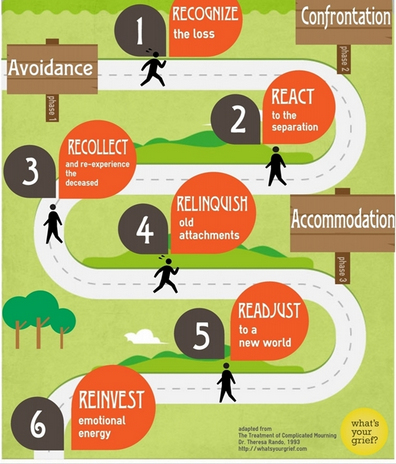 It feels reassuring to frame my sadness as mourning, as a process. That every day is different, and it's healthy and necessary to be honest, even about the feelings I don't welcome. We must feel whatever shows up and move on. We know from the science on heightened emotional states that they are temporary when we allow the experience.
Right now, let's focus on Recognize and React, or I prefer Respond. Now is the time to implement deep, conscious self care—here again is a list.
Noticing and recalibrating our response to life is the ongoing work of being conscious.
The human race is being given an intensive curriculum right now on Relinquish. I wish I had something smart to say about it. I feel too overwhelmed, so I'm letting go of being smart and wise. Instead, look to the wisdom traditions for rich teachings on letting go and surrender.
We'll consider Readjust and Reinvest later. For now, join me in starting a mental list of What I Want to Keep. Because that will be the beauty and the blessings, when it's time.